Safety in every bend. So everything runs true.
As a system partner, HANSA-FLEX also offers its customers design and production of bent pipes of all kinds – quickly, collaboratively, and to absolute precision.

Fluid systems are inconceivable without bent pipes. They are essential especially where complex engineering needs to be housed in tight spaces. In view of that fact, HANSA-FLEX has established a dedicated pipe bending centre which customers can call upon through any of the company's branches. The centre focuses on the production of precision pipes for small and medium-sized industrial concerns, from a wide variety of materials and featuring all commonly used connection techniques – and of course all in tried and proven HANSA-FLEX quality.

Specialist staff can also be called upon at short notice to provide customers with on-site advice and support. Services include the production of 3D views and computer-aided feasibility studies. Pipes are produced individually or mass-produced according to prototype or drawing. Based on the agreement, we handle the production of complete modules with hydraulic modules or even supply assembly-ready pipe sets. This includes just-in-time delivery to the assembly location. Whether as original equipment or replacement parts: it's a full-service package customers know they can rely on.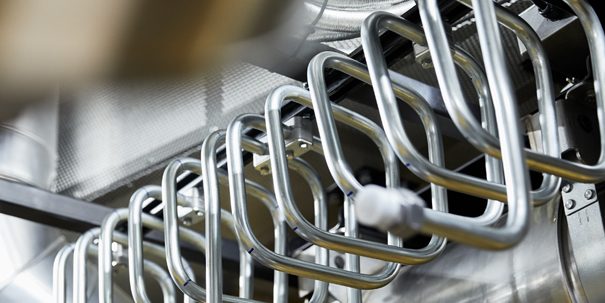 The pipe bending centre – specialists with hydraulics know-how
At the pipe bending centre, specialist partners provide HANSA-FLEX branches with technical back-up based on their extensive know-how in fluid technology. This is a key resource in delivering professional advice to specify pipes and providing collaborative support all the way through to the manufacture of single items or mass production runs. Complete pipe sets can be delivered straight to the assembly line based on pre-compiled parts lists – quickly, reliably, and flexibly, when short-notice modifications need to be implemented.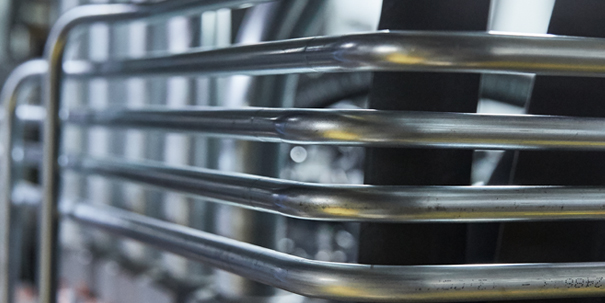 Ultimate precision – production by mandrel
Computer-controlled bending machines produce pipes in lengths up to 6,000 mm in just seconds, in black and galvanized hydraulic piping, stainless steel, copper or aluminium. The pipes are bent using a mandrel, so as to prevent narrowing of their cross-section and to safeguard laminar operation of the subsequent fluid system. The extreme manufacturing accuracy meets the highest precision demands over the full length.
HANSA-FLEX

bent pipes – for OE and replacement part needs
Precision parts in black and galvanized hydraulic piping, stainless steel, copper and aluminium
Maximum length 6,000 mm
Tube diameter widths Ø 4,00 - 101,60 mm
Single items and mass production runs
Data documentation for reproduction
All commonly used connection techniques (cutting ring, F and E flare connections; soldered or beaded; triple-lock 37° and O-lock 90° flare; Vossform)
Short delivery lead times
Prefabricated assemblies

HANSA-FLEX

installation teams available
All commonly available connections from the traditional cutting ring to metal forming
Formed fitting 90° ORFS (O-Lok) connection in accordance with ISO 8434-3 (SAE J1453) orbital and roller forming processes
Standard forming systems 24° sealing cone for positive-fitting connections in accordance with ISO 8434-1/DIN 2353
Two cutting edge cutting ring DIN 3861 with and without elastomer seals (compression nuts) in accordance with DIN 2353 EN ISO 8434-1 pipe fitting
Brake pipe and coupler connection D-E-F type in accordance with DIN 74234 for use with copper, steel and aluminium pipes
Flare 37° sealing cone JIC (Triple-Lok), imperial and metric pipe version in accordance with ISO 8434-2/SAE J 514
Upsetting as a bead on pipelines (similar to DIN 71550)
Your advantages with
HANSA-FLEX
All under one roof
Benefit from a complete range of hydraulic hoses and connecting elements for the hydraulics
Flexible assembly teams
Our assembly teams are always ready with a fully equipped workshop trolley.
X-CODE
Reduce unplanned machine downtime to a minimum with the X-CODE
Best quality
Certified according to DIN EN ISO 9001: 2015, we stand for the highest quality standards
Teaser-Contentseiten HydraulikS/
X-CODE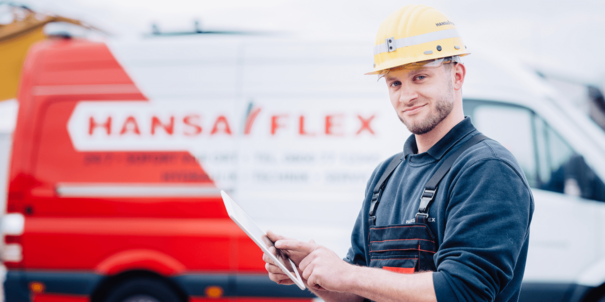 Rapid Hydraulic Service
Always near you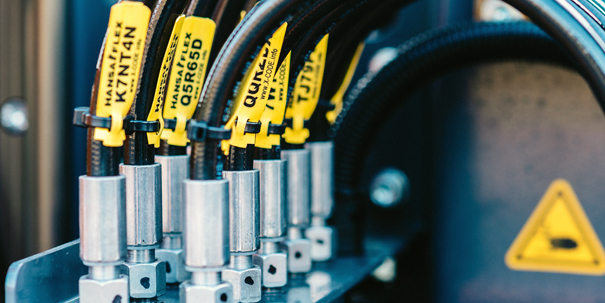 Hose management
Simply use the X-CODE