The whole spectrum. World-wide available.
HANSA-FLEX expansion joints assume a central compensating function in pipelines, machines and devices. Outstanding characteristic is their all-purpose application.

Many machines and pipelines of modern industrial plants are inconceivable without expansion joints: Differences in temperature, subsidence of foundations or inaccuracies during assembly result in changes to length and angles, which can only be adjusted by them. HANSA-FLEX expansion joints are primarily applied in pipeline construction for cold and hot water, steam, gasoline, oil, gases and chemical products of all kinds. Their compensating function also plays a central role in motor construction, where - for instance - they cushion the oscillations of diesel engines or turbines by preventing the transmission to the exhaust or compressed air pipes.

HANSA-FLEX presents soft material expansion joints, whose bandwidth and quality meets all requirements.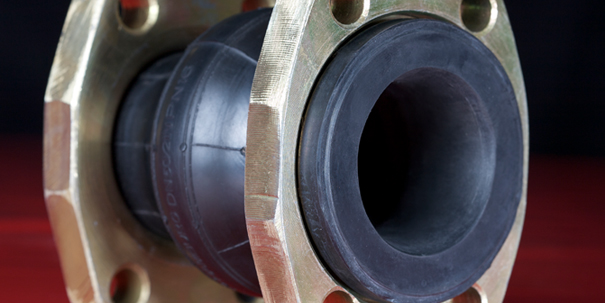 Soft material expansion joints from A to Z
As leading company in the field of fluid technology, HANSA-FLEX offers a complex program, which includes expansion joints for all applications: Round, rectangular and special expansion joints in all shapes, from clamp mounting to bellows with flange mounting.
Support is provided for the axial, lateral and angular expansion compensation. The temperature scale ranges from - 200 °C to + 600 °C (1.000 °C). Depending on application, the following materials are available: Hypalone, silicone, PTFE, EPDM, NBR, stainless steel or Incoloy. Given this variety, HANSA-FLEX expansion joints are predestined for diverse applications – last but not least for gaseous media, like flue-gas, air, exhausts or solvent vapours.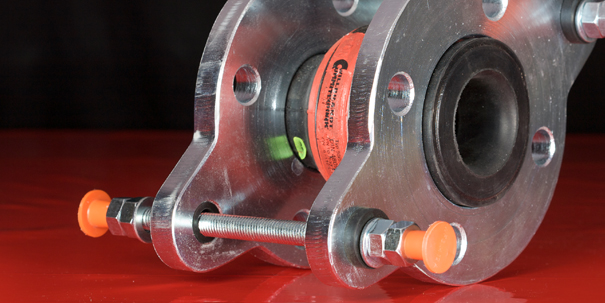 Beyond standard
Since there exists no standard in the field of soft material expansion joints, focus is placed on individual solutions, which can completely differ from case to case. Include your HANSA-FLEX specialists as early as possible in your planning efforts! With their competence and experience, nothing is impossible.
Almost nothing.
HANSA-FLEX

Kompensatoren – immer zur Stelle
For applications from - 200 °C to + 600 °C (1.000 °C)
Available in every shape, like round, rectangular and in form of special expansion joints: for clamp mounting, with lining flanges, as bellows and cross section changes
For axial, lateral and angular expansion compensation
Materials: Hypalone, silicone, PTFE, EPDM, NBR, stainless steel or Incoloy.
Short delivery times
Numerous certification variations: DVGW, DGRL, material and x-ray tests, Germanischer Lloyd, DNV and many more
For various special applications, like for instance chemical apparatus engineering, flue-gas suction and ventilation, etc.
Your advantages with
HANSA-FLEX
All under one roof
Benefit from a complete range of hydraulic hoses and connecting elements for the hydraulics
Flexible assembly teams
Our assembly teams are always ready with a fully equipped workshop trolley.
X-CODE
Reduce unplanned machine downtime to a minimum with the X-CODE
Best quality
Certified according to DIN EN ISO 9001: 2015, we stand for the highest quality standards
Teaser-Contentseiten HydraulikS/
X-CODE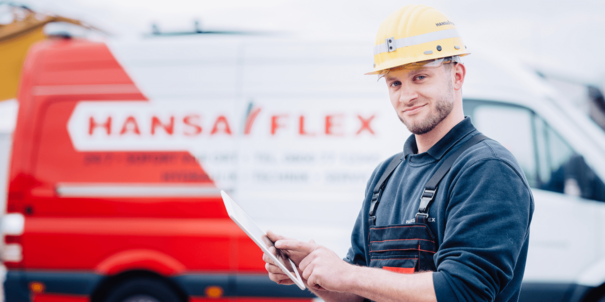 Rapid Hydraulic Service
Always near you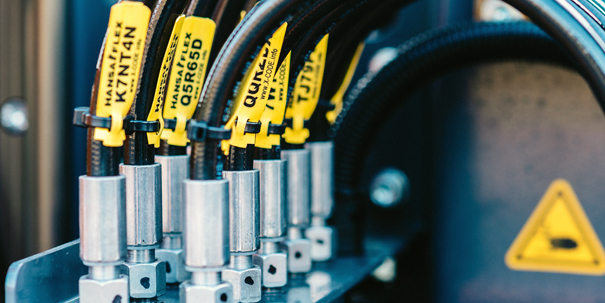 Hose management
Simply use the X-CODE