Products
Industrial hoses
Around 1400 different items. Available immediately.
HANSA-FLEX supports customers from the construction industry to the food industry with a wide range of certified quality industrial hoses.

The addition of industrial hoses to its product range takes HANSA-FLEX's system partnership into a new dimension. The company is now a one-stop shop supplying all connecting components for fluid technology. The benefits to customers are clear – undivided responsibility, no interfaces, increased budgeting reliability and optimum availability.

A special central warehouse has been set up in Telfs for around 1400 different items. It covers the entire range of industrial hoses, from the construction industry to the food industry. In addition to standard hoses for transporting chemicals, foodstuffs, air, water and abrasive media, these include all varieties of suction and pressure hoses. Appropriate accessories such as fittings and connecting systems ensure that complete solutions can be offered where required.

We can custom-make hoses for concrete with nominal widths of up to 5 inches and deliver them fully pre-assembled. And this great variety all comes with proven HANSA-FLEX quality. All hoses are produced to DIN EN ISO 9001 standards and offer total reliability and safety.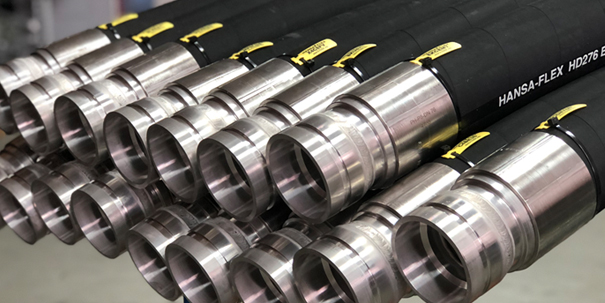 Short delivery times – maximum flexibility
HANSA-FLEX's rapid delivery service cover all standard products. This means that the required items will be available on site within a maximum of two days after we receive the order. Items that are not yet included in our range can be added in consultation with the customer and stocked in appropriate quantities. On construction sites with exceptionally high requirements for hoses, for example construction of tunnels, it makes good sense to have a sufficient number of certain hoses on hand at all times. To achieve this, HANSA-FLEX offers mobile workshop containers with the appropriate equipment and products.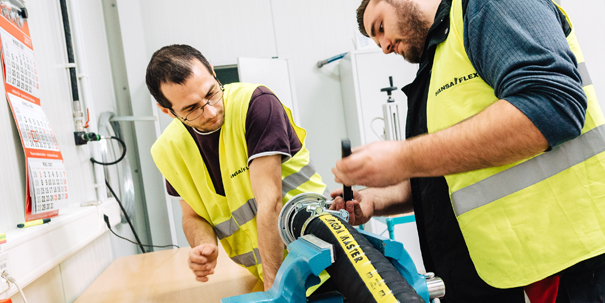 Advice and training for maximum safety
As a leading company in fluid technology, HANSA-FLEX can provide expert advice. Project support by experienced specialists ensures that the optimum hose is chosen for every specified application. Employee training is also important to ensure continuing
safety. On-the-job training provides targeted information on which hoses can be used for a particular purpose and what safety regulations need to be followed.
HANSA-FLEX

Industrieschläuche – vielfältig und sicher
Applications in the construction and food industries
Transporting chemicals, foodstuffs, air, water and abrasive media
Suction and pressure hoses
Central warehouse with around 1400 standard items
Additional items can be stocked on request
Comprehensive accessories
Wide range of connecting components
Proven quality – certified to DIN EN ISO 9001
Provision of workshop containers based on tailored partner models
Clear product catalogue
Expert advice
Your advantages with
HANSA-FLEX
All under one roof
Benefit from a complete range of hydraulic hoses and connecting elements for the hydraulics
Flexible assembly teams
Our assembly teams are always ready with a fully equipped workshop trolley.
X-CODE
Reduce unplanned machine downtime to a minimum with the X-CODE
Best quality
Certified according to DIN EN ISO 9001: 2015, we stand for the highest quality standards
Teaser-Contentseiten HydraulikS/
X-CODE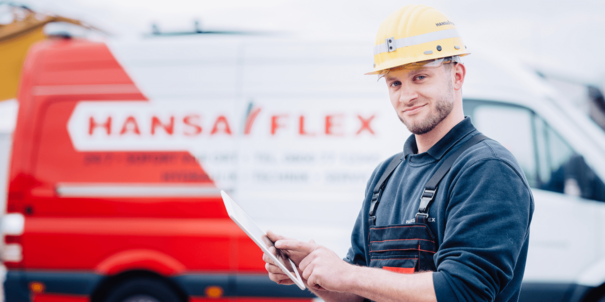 Rapid Hydraulic Service
Always near you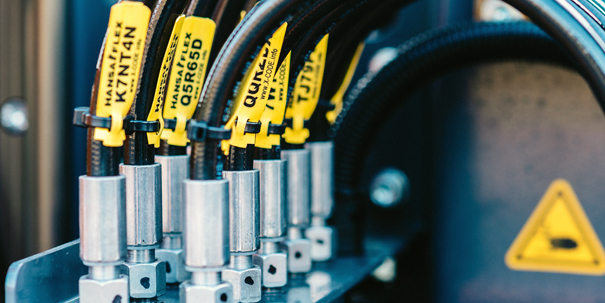 Hose management
Simply use the X-CODE