Products
Offshore industrial hoses
Resistance – even under extreme conditions.
HANSA-FLEX industrial hoses for maritime applications offer excellent material resistance and a wide product range.

As a system partner, HANSA-FLEX offers a complete range of hose lines for ships, drilling platforms, power stations, wind parks and other offshore facilities. Because everything comes from a single source, there is no division of responsibility, no complex interfaces, greater budgeting reliability and optimum availability. Our years of collaboration with dockyards and shipping companies have brought us extensive expertise in industrial hoses for use in marine applications. This results in robust products that are designed to withstand the most extreme conditions and guarantee the necessary safety for people and the environment.

Cooling water, air and chemicals can be transported just as reliably as fuel or lubricating oil. The hoses offer exceptional resistance to seawater, vibrations, temperature influences, ozone and abrasive media. PTFE corrugated hoses are particularly impressive – as well as the properties already mentioned, they are non-flammable and maintain their internal diameter without kinking even when used in a constricted radius. They represent a perfect space-saving solution for ships. Custom designs are also available that break galvanic currents and thus prevent metal corrosion.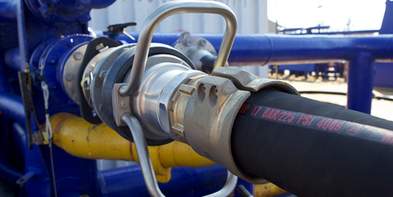 Quality assurance
HANSA-FLEX offshore industrial hoses are subject to stringent quality standards. We know that they are components that affect safety. We regular audit our upstream suppliers and consistently assure the quality of our products using thorough tests.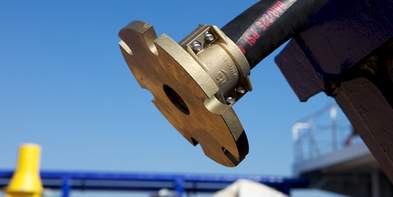 Advice and engineering
HANSA-FLEX supplies complete solutions, tailored to individual applications from start to finish. Our years of experience in marine applications mean that we can offer expert advice at all phases of a new development project. Engineering includes transfer of know-how, production of prototypes, optimisation of components for series production, performance of tests and approval procedures and detailed documentation.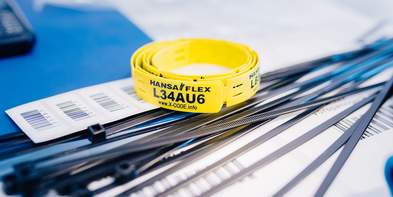 Genuine spare parts with
X-CODE
All hose lines are assigned an X-CODE, which is engraved directly on the fittings. This ensures that an identical spare part can be ordered and delivered when required. This reduces unscheduled stoppages to a minimum. The use of genuine spare parts also rules out the risk of fitting components from other manufacturers that may not exactly meet the specifications.
Auf allen Weltmeeren zu Hause -
HANSA-FLEX

Industrieschläuche – offshore
All maritime applications
For transporting water, air, chemicals, fuels, ​lubricating oils and other fluids
Complete range of nominal diameters from 25 to 200
Excellent resistance to seawater, abrasive media, ozone and vibrations
Flame resistant
Variety of connection options
Tailored solutions
Advice at all project phases
Performance of all tests and approval procedures
Technical documentation
Employee training

X-CODE

for reliable identification when replacing
Genuine spare parts
Your advantages with
HANSA-FLEX
All under one roof
Benefit from a complete range of hydraulic hoses and connecting elements for the hydraulics
Flexible assembly teams
Our assembly teams are always ready with a fully equipped workshop trolley.
X-CODE
Reduce unplanned machine downtime to a minimum with the X-CODE
Best quality
Certified according to DIN EN ISO 9001: 2015, we stand for the highest quality standards
Teaser-Contentseiten HydraulikS/
X-CODE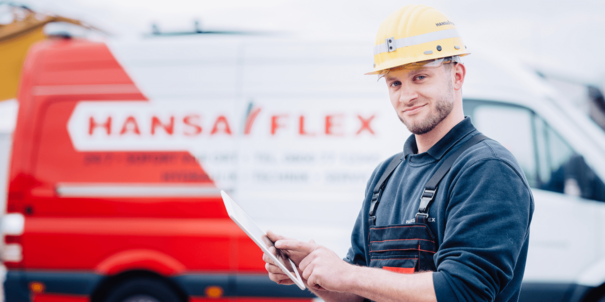 Rapid Hydraulic Service
Always near you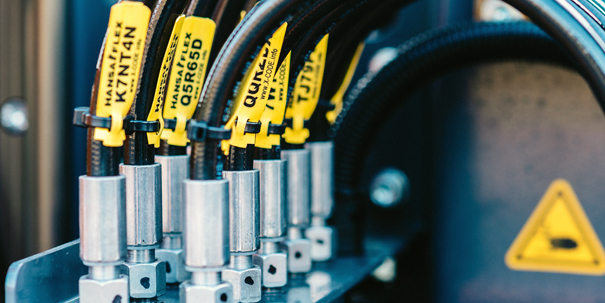 Hose management
Simply use the X-CODE