All cylinder types. Quickly restored to full functionality.
The HANSA-FLEX repair service is the cost-effective alternative to expensive new investment.

Hydraulic cylinders are subject to extreme stress. Sooner or later the continuous raising, lowering, shifting or locking of loads will cause wear which can endanger the entire process. New procurement or repair is then the question.

The HANSA-FLEX repair service provides a clear answer. It is not just much cheaper than buying a new hydraulic cylinder, it also guarantees the full functionality of the overhauled component in an equivalent manner to a new cylinder. And it does so within a very short time. This means downtimes can be minimized and significant investment sums saved.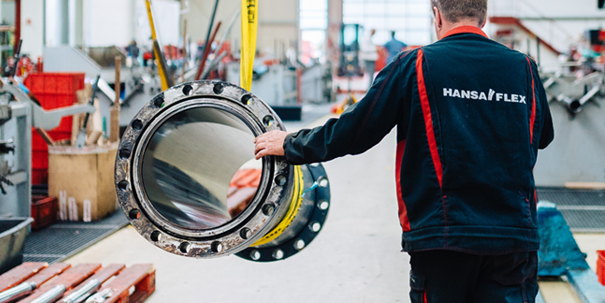 Metalworking services
HANSA-FLEX supports its customers even beyond cylinder repair. The modern CNC-controlled machine fleet is also available to take on short-term orders such as lathing soldered and welded ferrules, milling covers or sealing housings. Last-minute small to medium-sized batch sizes are delivered by the agreed delivery date.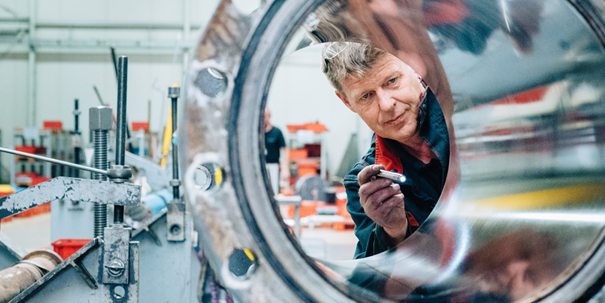 Large pump repairs
We repair large pumps flexibly, quickly and competently. Delivered with all the necessary test certificates, your components are back in action after a very short time. In view of the extremely long lead times that pump manufacturers require, repairs are a cost effective and quick alternative.
Always the most efficient solution
The state-of-the-art technology deployed in the repair service is able to meet any challenge. Even major wear and partial erosion can be repaired – whether on a common model or an 'exotic' special cylinder type. The range of services offered covers the full spectrum, from replacement of seals of all kinds to repair or replacement of individual components.
Cost transparency – certainty right from the start
Prior to carrying out any job, a binding quotation is drawn up specifying all the necessary work to achieve a complete, professional repair of the defective hydraulic cylinder. This cost transparency means unpleasant surprises in downstream phases are avoided.
HANSA-FLEX

cylinder center – Quality for every situation
Cylinder center:
Repair of all cylinder types, from whatever manufacturer
Component repair or replacement
Honing of cylinder pipes in 50 – 500 mm diameter
Boring, cylindrical surface grinding and chroming
Seals from 5 – 535 mm
Complete service – everything you need from a single source, including assembly/disassembly service
Full cost transparency
New services at
HANSA-FLEX

:
Large pump repairs, incl. test certificate
Lathe and milling work performed
Manufacturing of new cylinders
Your advantages with
HANSA-FLEX
All under one roof
Benefit from a complete range of hydraulic hoses and connecting elements for the hydraulics
Flexible assembly teams
Our assembly teams are always ready with a fully equipped workshop trolley.
X-CODE
Reduce unplanned machine downtime to a minimum with the X-CODE
Best quality
Certified according to DIN EN ISO 9001: 2015, we stand for the highest quality standards
Teaser-Contentseiten HydraulikS/
X-CODE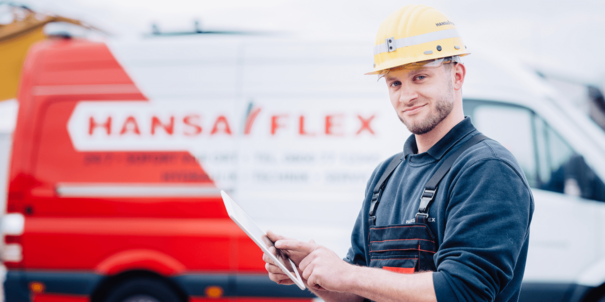 Rapid Hydraulic Service
Always near you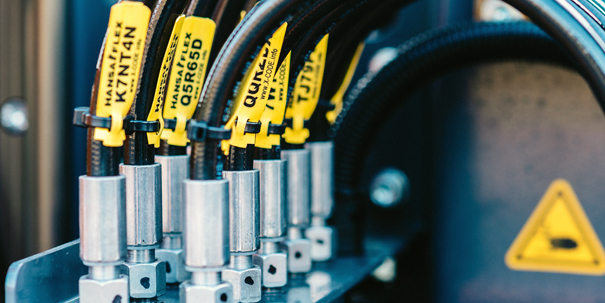 Hose management
Simply use the X-CODE